Voted #1 Dance Studio in Naperville!
---
Xtreme Dance Center is a Premiere State of the Art Dance Studio in the Chicagoland Area offering the finest in all styles of dance training. Xtreme Provides a home for every dancer from the young preschoolers taking their first dance classes to the recreational dancer interested in learning the newest dance moves to the very finest competitive students in the area. Xtreme is the home of the award winning Xtreme Dance Force competitive team. We offer a family environment where memories are created to last a lifetime. Some of the best competitive dancers in the nation have trained under the guidance of our talented and professional staff.
---
WHY CHOOSE XTREME DANCE CENTER:
- Highly qualified teaching staff.
- All Ages (Ages 18mo. to Adult).
- Free Wifi.
- Floating sprung dance floors for all studios.
- Competitive dance team.
- Children's program.
- Available office staff.
- Full length mirrors in all studios.
- All levels of dance. (Beginner to Advanced).
- Wide selection of dance styles.
- Viewing HD monitors / windows for all studios.
- Classes offered throughout the year.
- Safe and convenient drop-off/pickup for students.
---
AGES 18mo. thru ADULT - BEGINNER thru ADVANCED - EVERY STYLE OF DANCE OFFERED
---
- BALLET
- TAP
- JAZZ
- HIP HOP
- BOYS HIP HOP
- LYRICAL
- CONTEMPORARY
- MODERN
- BIRTHDAY PARTIES
- SUMMER CLASSES
- TECH POMS CLASS
- TURNS & TECH
- FREESTYLE
- BREAKDANCE
- ADULT HIP HOP
- ADULT TAP
- BEGINNER TEEN CLASSES
- PARENT & ME
- RECITAL
- SUMMER CAMPS
---
REGISTER NOW!
CLICK HERE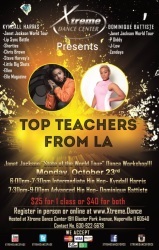 Xtreme supports our local
brownie & girl scout troops!
We offer classes to earn your dance badges. Free of charge.
CLICK HERE
TO BOOK YOUR CLASS


Miss Nichole's Saturday Hip Hop Class @xtremedancecenter The dancers love her teaching style and energy!!! Thanks for all the hours of training and teaching you put into the kids Miss Nichole!! You really are a huge part of Xtreme and we will never forget that!!! "Alesso ft. Tove Lo, Heroes" Xtreme Dance Team Crew Dancers featured in video


---