Devon Perri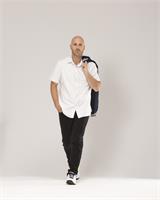 (CO-DIRECTOR) Devon is from Toronto and has been since a young age. He has had the opportunity in choreographing for such projects as The Toronto Film Festival as well the tap scenes in the movies; Honey, Universal Pictures and Save The Last Dance 2 MTV.
He's appeared in music videos for such artists as; Chris Brown-New Flame, Chris Brown-Loyal, Chris Brown-Turn Up The Music, NeYo-Beautiful Monster, David Guetta+Chris Brown-I Can Only Imagine, Timbaland-Cop That Disc, Snoop+Wiz-Young,Wild n' Free, BoA-Energetic, K-OS-Superstar + Crab Bucket, Mark Ballas-Get My Name, Yasmeen-Blue Jeansand many more. Devon has also performed on TV and stage with artists such as; the Billboard Awards w/ Michael Jackson hologram tribute, the VMA's w/ Justin Timberlake, the V.M.A.'s, Billboard Awards, BET Awards, DWTS and Carpe Diem Tour w/ Chris Brown, So You Think You Can Dance w/ Ne-Yo, DWTS w/ Jason Derulo, DWTS w/ Mark Ballas, DWTS w/ Macy's All-Stars, American Idol w/ Travis Garland and Stefano Langone, Korean Pop Star BoA and many more. He has also appeared in commercials for Marshall's, Cali-Max, and Milk-Canada.
Devon Perri instructs the following:
An Advanced level tap class. In this class students will learn the advanced level of tap dance & will progress through the course of the class to harder steps. The class will consist of a warm-up, tap technique, and a combination. For ages 12+




Work on your freestyle abilities as you learn musicality and how to move your body to the music without choreography because you create your own.